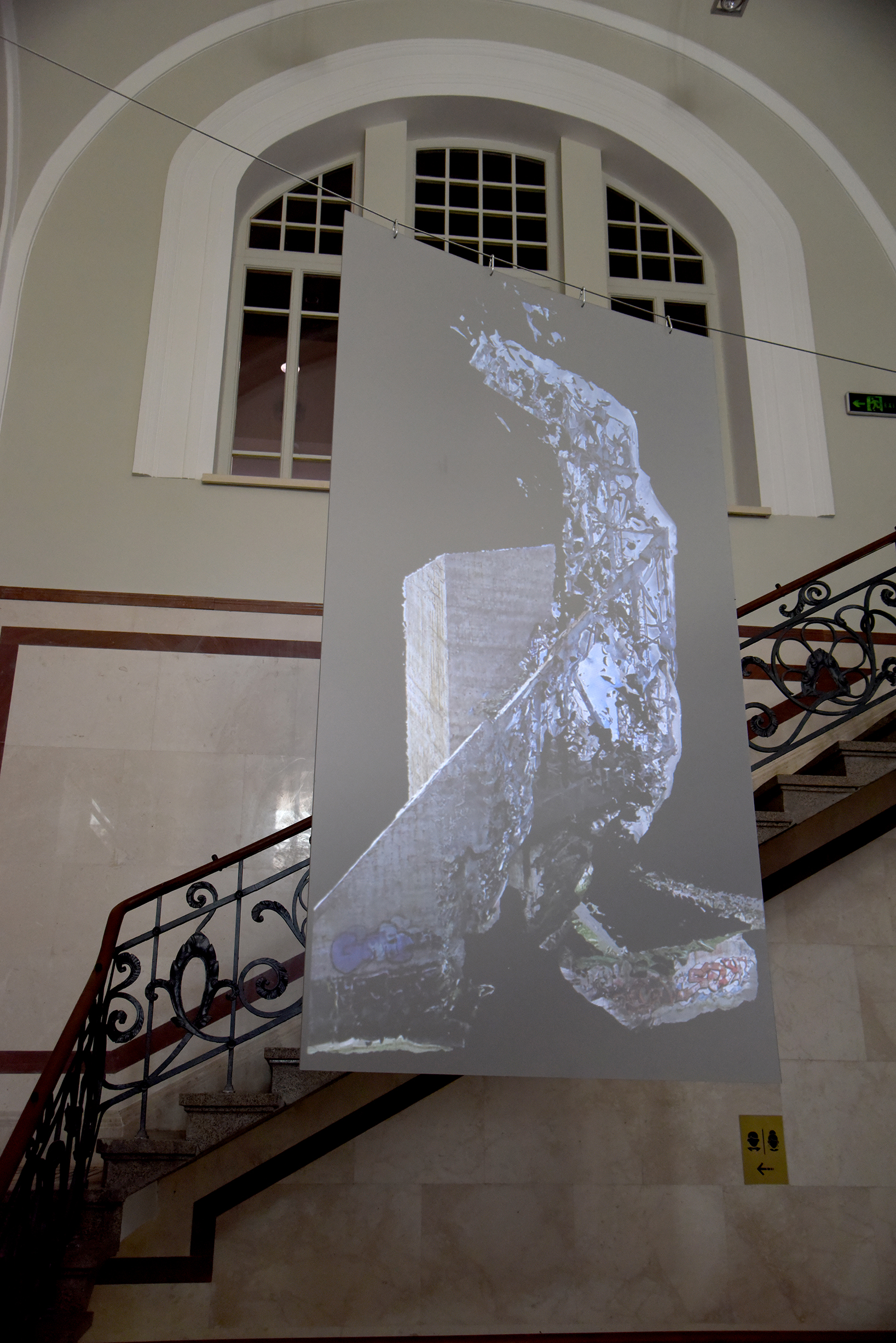 ︎︎︎ A GHOST THAT ONCE LOOKED FAMILIAR AND HOMEY

KRASSIMIR TERZIEV, 2019

PHOTOGRAPHIC MODEL, 4K VIDEO, 2 MIN., NO SOUND, VARIOUS SIZES

A three-dimensional model built by the method of photogrammetry, using as sources only "found footage" – photographs taken in uncontrolled conditions by a large group of different people with no connection to each other, all depicting a common object of interest: a public monument. In order to render the volume of a 3D model in photogrammetry the source photos should cover the entire 360 degrees perimeter of the monument. In uncontrolled conditions however it is normal next to impossible to reach such coverage. So the final 3D model would be inevitably imperfect. But that level of imperfection is exactly what I find most interesting, for it reveals collective patterns of movement and limits of access. A new object appears, generated by the lenses of a multitude that shares an imaging device.

The object of interest is a no longer existing public monument that stood in the centre of the city of Sofia from 1981 till 2017. The Monument to 1300 Years of the Bulgarian state that was located in the centre of Sofia, built in 1981 as a symbolic centre of the entire urban plan around the National Palace of Culture, part of a large-scale campaign celebrating the 1300th anniversary of the foundation of the Bulgarian state, initiated by the then socialist state called People's Republic of Bulgaria, and personally by the daughter of the state leader Todor Zhivkov, Lyudmila Zhivkova. In 2017 the monument was demolished due to its deterioration caused by long years of negligence, combined with the currently prevailing negative sentiments towards the recent past of the Communist rule.

As I initially predicted, relying only on casual photos taken by passersby or professional photographers in the 1980s resulted in models that are partial (full of blanks on the spots that no camera was able to reach) and deformed (in the areas where the software was incapable of interpreting data correctly on the Cartesian plane). It became a volumetric visual expression of public memory.
Krassimir Terziev is an interdisciplinary artist whose work spans a diversity of media, including video/film, photography, painting/drawing, and text, questioning the boundaries between reality and fiction, while exploring the manifold transitions and tensions between a globalized world, dominated by overwhelming multiplicity of symbolic imagery, and its material groundings in technological, physical and human 'hardware'.

He holds a Ph.D. in Cultural Anthropology from Sofia University (2012), where is lecturing since, and an MA degree in Painting from the National Academy of Arts, Sofia (1997), where he lectured from 2009 to 2016. His work is part of the collections of Centre Pompidou/MNAM, Paris; Arteast 2000+ Collection, Moderna Galerija Ljubljana; Sofia City Art Gallery, Sofia; Art Collection Telekom, Bonn; Kunstsammlung HypoVereinsbank, Munich; Gaudenz B. Ruf Collection, Zurich/Vienna; Art Project Depot, Sofia; Dana and Georgi Voynov Collection, Sofia/Bucharest; among others.

Born 1969 in Dobrich, Bulgaria. Lives and works in Sofia. Member of the Institute of Contemporary Art - Sofia.
---
© History in Between, 2021
This project is part of the Cultural Calendar of Sofia, Ministry of Culture and Sofia History Museum.



Connect:





︎
︎
︎
---
"История помежду" ("Проект за музейни намеси в РИМ, София") е съвместен проект между Фондация "Изкуство – Дела и Документи" и Регионален исторически музей, София, подкрепен Календар на културните събития на Столична Община.

History in Between (Project for interventions in the Museum, Sofia) is a collaboration between the Art Foundation - Affairs and Documents, and the Regional History Museum of Sofia. It is supported by the Calendar of Cultural Events of Sofia City.
---